Whirlpool Cabrio Washer Bearing Repair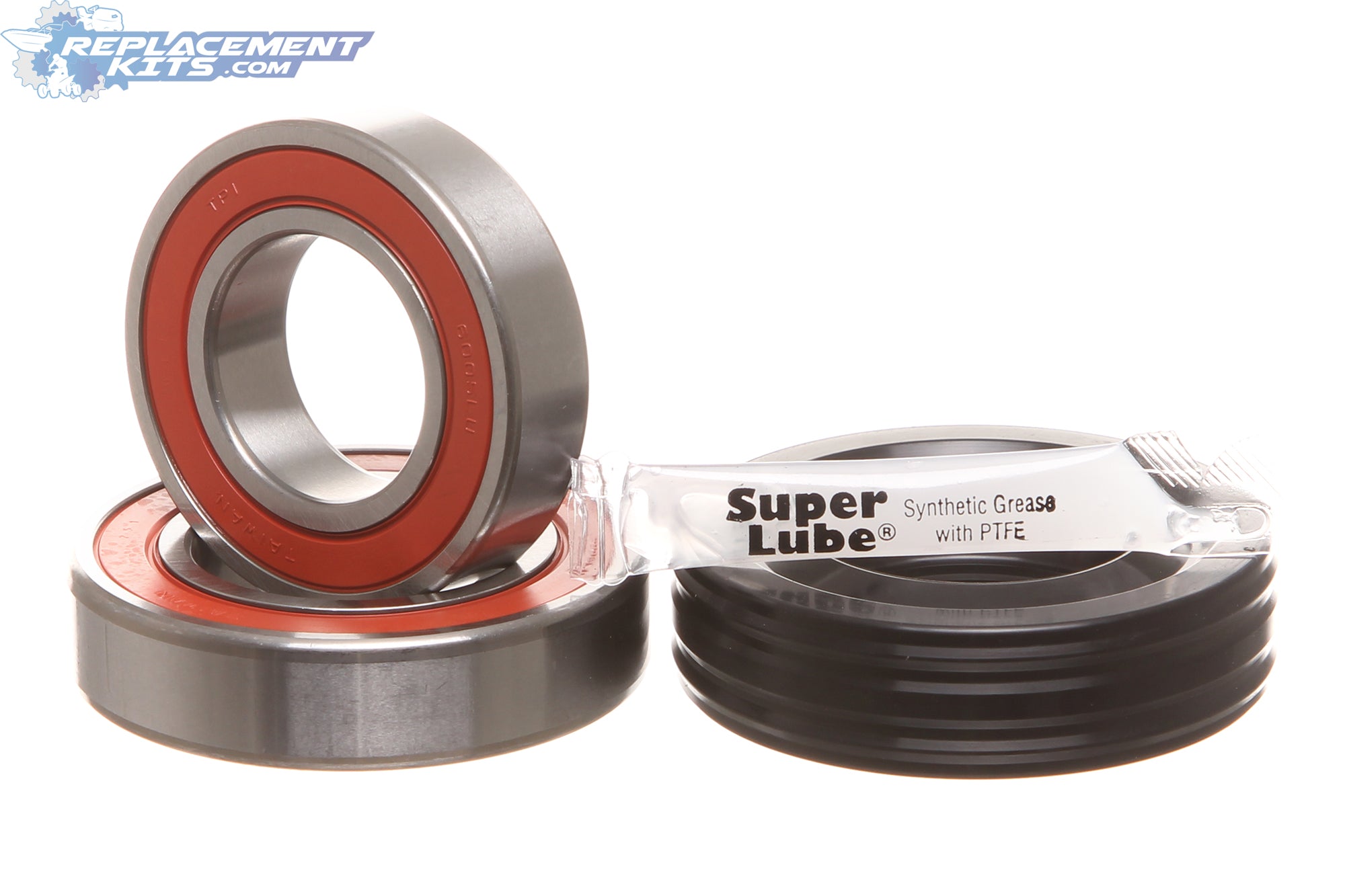 The question we get ask the most at Replacement Kits is  " Do I need to replace the Bearings along with the shaft, spacers & nut?"  The answer is NO! Just because the bearings are bad doesn't mean you need to replace everything else. Replacement Kits has developed our own Bearing & Seal kit to be an affordable option to this.
Our Kit Includes the parts listed below and are guaranteed to work or your MONEY BACK. No questions asked!
1 Tub Seal  (equivalent to 8545956)
1 Top Bearings
1 Bottom Bearing 
Our bearings are quality aftermarket made by TPI in Taiwan (not China)
TPI (Tung Pei Bearing) are a very well know and trusted imported brand of bearing under
 technical co-operation with NTN Corp-Japan. 
Works with the following Models:
WTW7300XW1, WTW7300XW2, WTW7320YW0, WTW7340XW0, WTW7340XW1, WTW7340XW2, WTW7600XW0, WTW7600XW1, WTW7600XW2, WTW7800XB0, WTW7800XB2, WTW7800XL0, WTW7800XL2, WTW7800XL3, WTW7800XW0, WTW7800XW1, WTW7990XG1, WTW8800YC0, WTW8240YW0, WTW7800XW2, WTW7800XW3,110.27087601
WTW6300SG1, WTW6300SW0, WTW6300SW1, WTW6300WW0, WTW6340WW0, WTW6400SW0, WTW6400SW1, WTW6400SW2, WTW6400SW3, WTW6500WW1, WTW6600SB0, WTW6600SB1, WTW6600SB2, WTW6600SB3, WTW6600SG0, WTW6600SG1, WTW6600SG2, WTW6600SG3, WTW6600SW0, WTW6600SW1, WTW6600SW2, WTW6600SW3, WTW6700TU1, WTW6700TU2, WTW6700TW0, WTW6700TW1, WTW6700TW2, WTW6800WB1, WTW6800WL1, WTW6800WW1, 7MMVWB850WL0, MTW6300TQ1, MTW6500TQ0, MTW6600TB0, MTW6600TQ0, MTW6600TQ1, MTW6700TQ0, MTW6700TQ1, MVWB300WQ0, MVWB300WQ1, MVWB300WQ2, MVWB400VQ0, MVWB450WQ0, MVWB450WQ1, MVWB450WQ2, MVWB455YQ0, MVWB700VQ0, MVWB750WB0, MVWB750WB1, MVWB750YW0, MVWB750WL1, MVWB750WL2, MVWB750WQ0, MVWB750WQ1, MVWB750WQ2, MVWB750WR0, MVWB750WR1, MVWB750WR2, MVWB755YL0, MVWB755YQ0, MVWB755YR0, MVWB800VB0, MVWB800VQ0, MVWB800VU0, MVWB850WB0, MVWB850WB1, MVWB850WL0, MVWB850WL1, MVWB850WL2, MVWB850WQ0, MVWB850WQ1, MVWB850WQ2, MVWB850WR0, MVWB850WR1, MVWB850WR2, WTW6200SW0, WTW6200SW1, WTW6200SW2, WTW6200SW3, WTW6200VW0, WTW6200VW1, WTW6300SB0, WTW6300SB1, WTW6300SG0, 
---